If you read the EUC blog regularly, you're probably already aware that the Workspace ONE platform supports a wealth of integrations across platforms, devices, security, apps, identity and more. Today, I'm excited to announce a new solution that bridges the security and experience of the Workspace ONE productivity apps with Microsoft's cloud and productivity products. The solution is VMware Workspace ONE™ Send.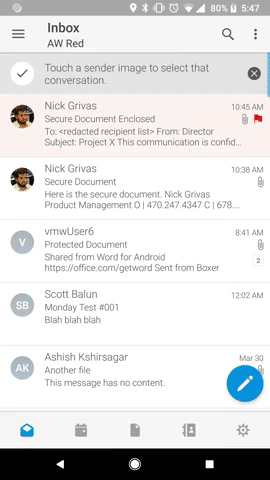 Workspace ONE Send will support joint customers, some of the worlds largest enterprises across the globe, using VMware Boxer and Office 365 apps managed by Intune to provide a seamless experience for users across ecosystems. Today, Workspace ONE Send acts as a bridge to connect Boxer to apps like Microsoft Word, Excel and Powerpoint to quickly and securely pass files back and forth while respecting Intune DLP policies.
"First time hearing of Boxer? Learn how our enterprise-secure mobile email hero is putting #employeesfirst. Read the blog."
For users, the file transfer happens in just a few flips without any required steps for the user, making it the fastest bridge application on the market today. By integrating our ecosystem of secure productivity apps with Microsoft's world-class Office 365 apps, IT can deliver a more compelling, consistent and secure experience for opening, saving, editing and sharing files across Workspace ONE productivity apps and Office 365. This will make it easier than ever for employees to work from apps like Word, Powerpoint and Excel on Android and iOS devices, from anywhere.
Workspace ONE Send is packaged alongside our secure productivity apps in the Workspace ONE Advanced bundle and above. No additional purchase is necessary if you've already purchased Boxer. This is the first release of many, stay tuned for more exciting things to come in 2018.
To learn more about VMware Boxer and our other Workspace ONE secure productivity apps for content, browsing, employee lookup and more, visit our webpage. Interested in learning what's new with our apps prior to this release?