I'm thrilled to announce our newest secure productivity app, Workspace ONE Notebook, is now generally available for customers! Workspace ONE Notebook is a robust, enterprise secure notes and tasks manager that empowers users to capture ideas, meeting notes, tasks, and more on-the-go. With Notebook, it is easier than ever to stay organized and quickly locate items with intelligent notebooks and tasklists. With the tap of a finger, users can instantly and securely share notes, notebooks, tasks and more, driving even better communication and collaboration.
We know you are busy, let's take a look at a few of the most exciting features of Workspace ONE Notebook in six quick GIFs.
Capture It All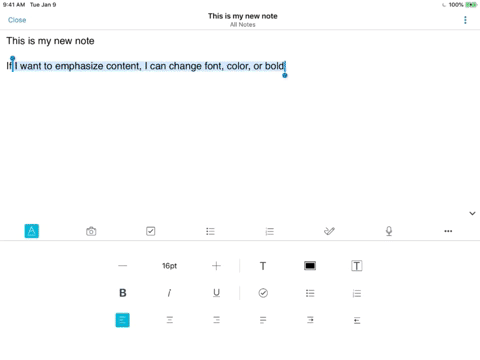 With Workspace ONE Notebook, notes are no longer bound to physical paper. Create notes your way with customizable text, images, voice memos, handwriting and more.
Crush the To-do List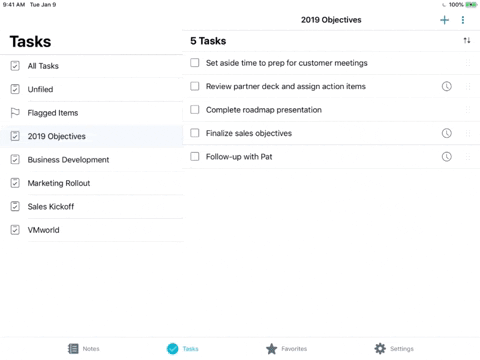 Workspace ONE Notebook features a powerful task manager that allows you to create, edit, group, prioritize and set reminders. Easily tap and drag to move tasks around and check tasks off the list when they're completed. Satisfying, isn't it?
Work Faster with Note Templates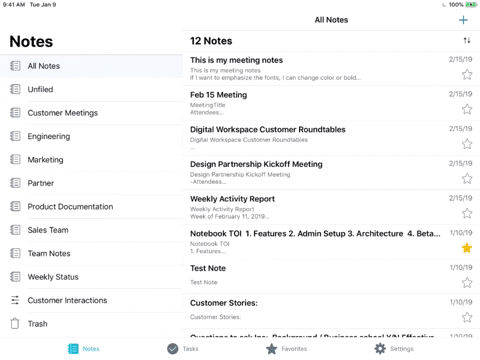 Workspace ONE Notebook is ideal for things like meeting notes and status updates. Quickly and easily select and manage your fleet of templates and spin up notes faster than ever.
Synchronize Information Between Microsoft Exchange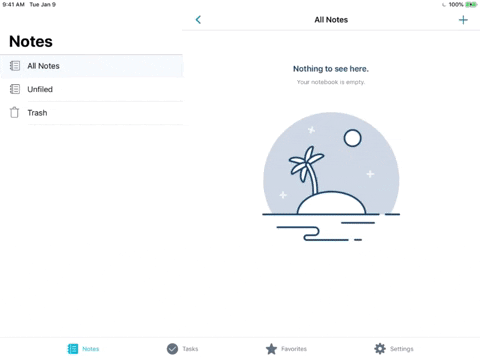 Managing notes and tasks in Exchange? Workspace ONE Notebook can be configured to continuously sync notes, tasks, and flagged emails to help you stay on top of everything.
Group Notes with Smart Notebooks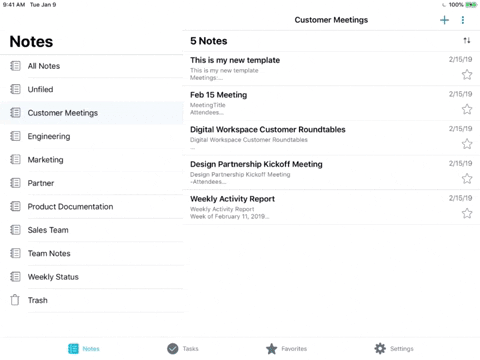 Build smart notebooks with Workspace ONE Notebook and automatically compile notes into a specific notebook based on filters you set. You can also filter by attachment, making finding what you are looking for seamless.
Similar Tasks in a Single Place with Smart Tasklists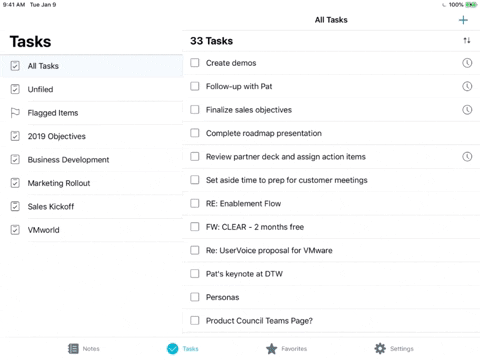 Similar to smart notebooks, smart tasklists within Workspace ONE Notebook help you compile specific tasks based on filters you create.
Workspace ONE Notebook is included in the Workspace ONE Enterprise bundles and above and is also available for purchase as an add-on to other bundles. Contact your account representative for more information on how to deploy Notebook to your employees.